The long weekend of 4<sup>th</sup> of July holiday, besides that it now has a greater significance in my life, presents an opportunity to make a dive trip to some distant places, like Canada. And I decided not to miss a chance and go to one of many diving spots that Matt and I have visited during our 2017 big trip to the End of the Road – Baie-Comeau. We both liked that part of St Laurence, and on our way back home, as we talked about which spot, from our long itinerary, we would love to come back to, Baie-Comeau came out as number one on our list.
Staying at Baie-Comeau
Matt was running some important errands and was unable to join me on this trip. So, I contacted Patrick B., with whom we dove in 2017, and prearranged 3 days of diving off his 16-foot RIB. Also, through Airbnb, I was able to find a place to stay. Last year Matt and I paid about $130 a night, lodging at the local motel. But this time, I found the private split-level house, which was located just 3 minutes driving time from it to the pier, where all dives were initiated.
Robin's house at the Baie-Comeau
For $22 a night I've got a very spacious room with a bed, table, cupboard and plenty of electric outlets for all my charging needs.
The toilet, sink, refrigerator, and washing machines were located across the hallway in the separate room. But the kitchen and the shower – on the top floor. Both, kitchen and the bath were shareable with the members of the family. But I did not find such arrangement as an inconvenient one. Quite the contrary, I was told that in the kitchen I can "share" anything I need, including utensils, cookware, coffee machine, stove, dishwasher, etc.
If you stay in this place, you'll definitely interact with the family. Once I ate my breakfast with grandpa and grandma, very nice folks that were aiming to please. Grandpa spoke English a little, but, with a little what know, I felt comfortable to practice my French:) When I finished my morning meal, they told me not to worry about used dishes, they'll take care of 'em.
Robin, the host of the house, spoke enough English to explain to me where, in case if I need it, I can find more towels and if I wish, I can use outside BBQ and garden hose to wash my dive equipment. It was also ok to use the deck on the back of the house to dry up my suit and BCD
View on St Laurence from shores of Baie-Comeau
I asked Patrick for some suggestions for the local dining, and that's how I found the restaurant Les 3 barils. The meals were nicely cooked, plentiful and very inexpensive. Oh, by the way, if you decide to visit this place, ask for Alice, a very nice waitress who also spoke perfect English.
Getting to the sites
Each morning, Patrick and I loaded cameras, tanks and snacks onto his RIB, launched it off the boat slip at the Club Nautique and by 9:30 we were on the way to our first dive site.
Departing out of the bay (Club Nautique de Baie-Comeau)
On the way out and back to the bay, we were floating by the dam, constructed with large boulders, where seagulls and cormorants built their nests, utilizing surface, cracks, ledges and crevasses of the divider. Therefore, a tumultuous "au revoir" was a part of each passing in and out of the inlet.
As we navigated to the Timur's Bay (yes:)) last year Patrick named 2 sites after Matt's and my name) we stopped a few times to observe porpoises,  razorbills (petit pingouin) and whales. Patrick told me that he was always hoping to see a whale underwater, but his dream is yet to materialize. Well, we'll keep our fingers crossed.
Razorbill (Petit pingouin)
Diving
First of all, let me tell you that it would be impossible to get to the sites we dove from a shore. Without the wind, we were able to get to the first spot within 20-25 minutes. But on the way back, with a light wind, it took us almost an hour to negotiate slightly disturbed river. Buy the way, it's somewhat funny to call it a "river", knowing that it is about 37 miles (60 kilometers) from one shore to the opposite one.
Anyway, last year I remember to be quite impressed with the underwater clarity, topography and a multitude of marine organisms.
Wide view of the marine life of Baie-Comeau. (Courtesy of Patrick R. Bourgeois)
Since we were diving along the shore, the navigation was easy. It also wasn't too deep; an average depth was about 35-45 feet. The worst visibility was about 20 feet, and that happened to be when we dove near 2 waterfalls. Otherwise, the vis was spectacular, on the last day, at "La Spot Calm", it was at least 40-45 feet. At other places, an average was about 25-35 feet. The water temp at the lowest was 37F (~3C) and at the warmest … well, it was a very nice visibility and plenty to see 🙂 (all I suggest – use your warmest suit)
Northern Basket Star (Gorgonocephalus arcticus)
About marine organisms … those were so numerous that I found it very handy to have a copy of Marine Life North Atlantic App on my phone, I could check all I saw right after the dive. You see, normally, before I register all encountered animals, I would come back from the trip, examine my pictures and then flip through the pages of Marine Life of the North Atlantic, matching names of the book's depictions with what I've seen.
Arctic Shanny (Stichaeus punctatus)
Red-finger Aeolis (Flabellina verrucosa)
And often, because book displays only one picture of each subject, it was hard to identify my shots with what I could see in the book. But now, since an application contains several pictures of almost all animals, it was much easier to check off what I've spotted right after the dive, while my memories were still fresh.
There are only 3 images of a black shell,
that are available in the book
to represent Atlantic surfclam
This is the first image of
the same surfclam in the app
This is the image number 6,
(out of 8 available) and that
what I actually saw underwater
Plus, during each dive, as I was searching for something new to see, I wasn't wasting my time on photographing such repetitive organisms like sponges, crabs, sea cucumbers, scarlet and brown psoluses, green sea urchins, many stars, sea strawberry, etc., but I saw them and wanted to mark all I've observed.
Scarlet psolus surrounded by Sea strawberry soft coral
My poor attempt to make a wide angle shot – Clonal plumose anemone
Waved whelk. Who knows, maybe that was an inspiration for Michelangelo's famous Sistine Chapel's ceiling masterpiece 🙂
The app was very easy to use. As I mentioned, I've marked everything I spotted right after the dive, while I was on the boat. But I posted my observations later on, when I came back to the house and confirmed with those, who could clarify a few species for me. Since people may follow those creatures, I wanted to make sure that I did not make a mistake, posting the wrong animals.
Longhorn sculpin (Myoxocephalus octodecemspinosus)
Polar Lebbeid Shrimp (Lebbeus polaris)
As for me, my favorite one was an Atlantic Spiny Lumpsucker. Last year, right here, at Baie-Comeau, Matt and I saw a few during almost every dive. And this year, I was specifically looking for one, and at the La Spot Calm, where Patrick and I made two dives, I was very happy to find a beautiful specimen.
Atlantic Spiny Lumpsucker (Eumicrotremus spinosus)
We have decided to stay for the second dive because, as I've mentioned previously, the visibility was at least 40-45 feet. I really wanted to dive with a wide angle, to show an abundance of marine life in this part of St Laurence. But Patrick, checking the weather forecast, thought that we won't be able to get a decent vis and suggested to use a macro lens. Well, and now, with water clarity over 40+ feet I wished I was equipped with my 17-40 🙁 ah, next time 🙂
Shag-rug aeolis (Aeolidia papillosa)
WiseLed Spotlight
During my recent trip to Norway, for the "Nudibranch Safari ", I've met a very good photographer from Norway – Tine Kinn Kvamme – who was utilizing the WiseONE Black Edition 5000 lumen spotlight as her lighting means for underwater exploration and photography. She dove only with a camera, packed into an underwater housing, and aforementioned handheld light … that's all. I made one dive with her and saw how creative she was with this torch. She was using this handheld light like a brush, practically "painting" subjects of her interest with this light's strong output. If I am not mistaken, since no substrobes were present, she was using shutter priority mode on her camera. Therefore, depending on the angle of its narrow (4.6 degrees) light beam, each shot of the photographed subject acquired a very unique shadow and coloring. I loved this idea so much, that upon returning home, I placed an order and within a day or two I was holding the unit in my hands.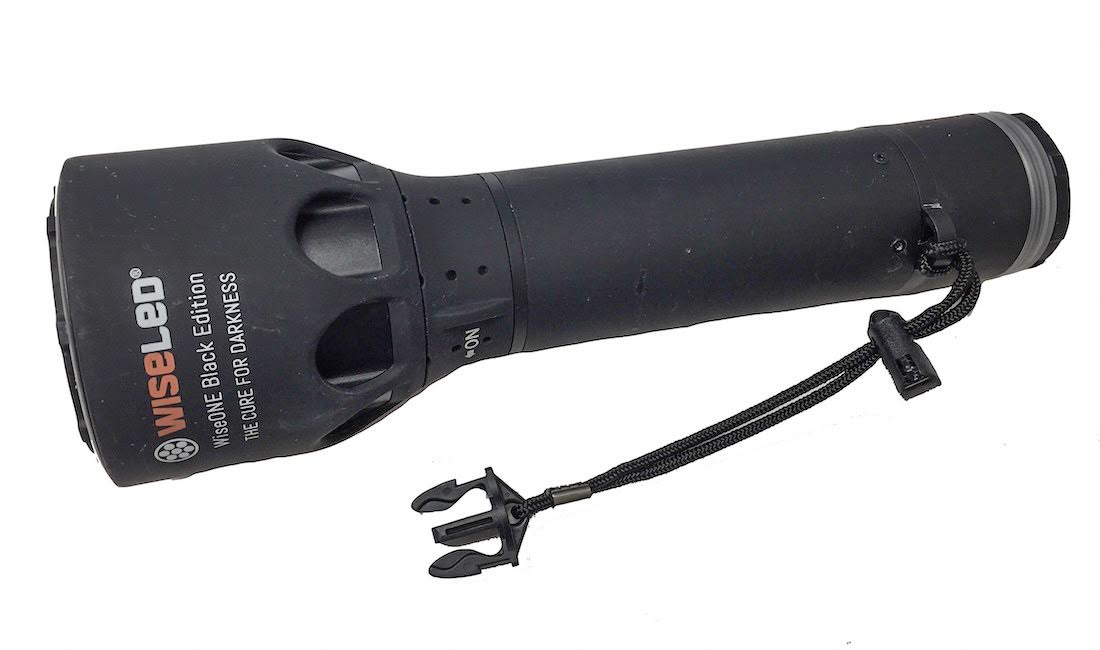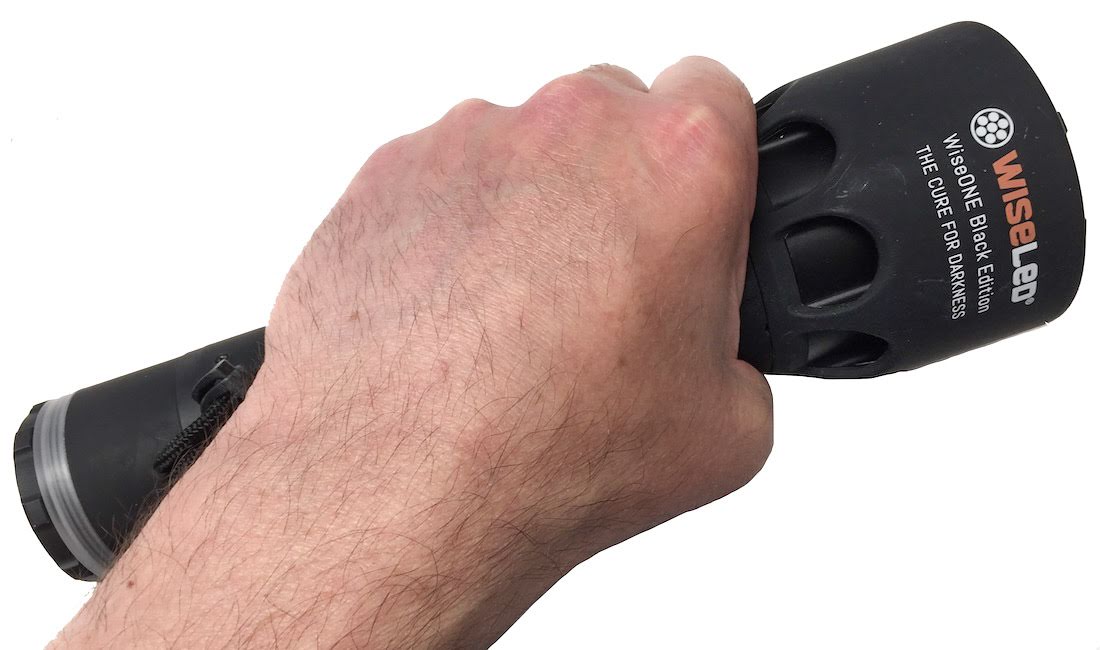 I used WISELED during this trip and really liked being equipped with such a powerful tool. First of all, it is a very bright unit, especially at its highest setting. The light itself is surprisingly small, considering its impressive abilities. All its 5000 lumens can be at your service for a whopping 3 hours and 20 minutes. An 80 percent, which, according to Tine is more than enough for underwater photography, can give you an additional hour and 10 minutes of working time. And so I used the light at Tine's suggested setting and really was impressed with the results. I have to admit that my 2 substrobes were on the way and it was difficult to extend my arm over the housing, so I could use the light as I wanted, but for now, it was just fine.
Below you can see a few pictures that I took using nothing else but this spotlight. I turned off substrobes and held WISELED above photographed subject. What I noticed, that depending on the camera settings, the aftereffect of some shots resembles pictures taking with the snoot. The subject appears to be on the "stage", surrounded by the ring of darkness and it is free of a backscatter. My camera setting varied between 1/125, 1/320 sec, f/9-16 and ISO from 125 to 320.
Also, I noticed some interesting behavior of a sea cucumber. Normally, when it feeds, it wipes collected nutritious of its tentacles one right after another. But as soon as I pointed the light at it, a tentacle, that was bending towards the mouth, froze for a second and then unbend itself and lined up with the rest. Actually, all branching tentacles spread out and the ring canal – "mouse" – formed into a straw. I took a few shots and as soon as I moved my light away, the animal resumed its feeding routine. I tried this on few other sea cucumbers and the result was similar.
And all that I mentioned above was nice and helpful. However, as saying goes, everything is a double-edged sword. The light was so bright, even at its diminished power, that all skittish animals, like shrimps, fish, crabs, etc., would try to disappear faster than usually.
I asked Patrick, and he readily agreed to share with me a few of his wide-angle shots. Below are a few pictures showing off a wider look at the marine life of Baie-Comeau. These representations are courtesy of Patrick R. Bourgeois. You can find more of his beautiful work here.
A wider look at the marine life of Baie-Comeau. (Courtesy of Patrick R. Bourgeois)
Conclusion
I can't tell you exactly how many miles of St Laurence river still remains unexplored. Patrick and I spoke between dives about it, when he pointed east, at the nearby turn, about 300 feet away from the La Spot Calm, and said that this is where we can explore next. And I'm very positive that we'll find there a lot to see.
Well, this trip, as many others, showed me that there are so many beautiful places to be experienced and enjoyed. I've met nice people and saw new places. And I know that such memories will never get covered by a dust of a passing time, staying with me for as long as my sanity remains intact. Thus, I am wishing to all, including myself 🙂 to keep exploring for as long as you desire, above and below surfaces of all oceans. Safe diving and happy discoveries to all.
Written with a love in my heart, smile on my face and anticipation of a next trip.